Read about Donat's experience of accessing support through our Engineering Neurodiverse Futures programme, and how it helped him approach his studies in a new way and get his confidence back.
Back before the diagnosis, I knew I was struggling, but didn't understand why. I had a conflict raging inside of me and it was tricky. I always felt I was 'different' in some way. Now, I feel relief. I have more compassion for myself, and feel I know myself better than I did before.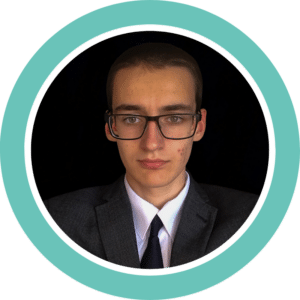 Hi, I'm Donat and I'm in my first year of an electrical and electronics engineering course at Leeds University.
I've always loved learning, and have high expectations of myself. But not long into my studies, I noticed that I was starting to struggle.
At first, I kept thinking that I just needed to work harder. But as time went on, the problem seemed to spiral.
I was getting increasingly frustrated, as I knew I was capable and I wanted to do well. But there was a blocker in my path that I couldn't identify.
I felt like a fly trapped inside a window, bouncing around trying to get out of the situation, but stuck doing the same things with no success.
Discovering the Engineering Neurodiverse Futures programme
Then, in December 2022, I received an email from my university about Foothold's neurodiversity support. I noticed they have a support programme specifically aimed at first-time engineering students, offering the opportunity to access a funded diagnosis of a neurodiverse condition.
It sounded like a really good opportunity, especially as Foothold also provides additional financial, counselling and career support if you're found to be neurodivergent.
But even though my younger sister had been diagnosed with Autism, I never seriously considered that I could be neurodivergent too.
I thought I was making excuses for myself, and just needed to try a different study method.
Plus, the long waiting lists and cost of a private diagnosis had made me think: 'this isn't the right time, and it's not for me'.
But the email gave me the push I needed to take action. I decided I had nothing to lose, and even if I discovered I wasn't neurodivergent it would mean I could eliminate this as a possible cause, and focus on other potential factors.
So, I emailed the Foothold team to find out more.
Getting a diagnosis of ADHD
The first step towards being accepted for the programme was to complete an online screening tool.
I was sceptical at first, but the confirmation from the pre-assessment showed that I met the threshold for a formal diagnosis, so I started to think I maybe did have ADHD.
The next stage was to access the diagnosis itself. Foothold gave me some suggestions of providers both near to my university in Leeds, and also back home in Cambridge, so it was nice to have some say over where I would take the sessions.
However, after looking into the various options, I decided to go down the online route instead as this felt most comfortable for me.
I had the assessment appointment on my 19th birthday, on the 19th March. It was an unusual way to spend my birthday! I saw it very much as a positive thing though, and a personal growth opportunity.
At the end of the assessment, it was confirmed that I have ADHD. I'm waiting on an official letter of diagnosis to be sent through by the assessor, and I've also been prescribed some medication which is currently being sorted out.
Unfortunately, I missed the window to get on my university's exam concessions list. I wish I'd done the assessment earlier to avoid this, but the process also took longer than I thought it would. However, I can apply for mitigating circumstances, which I couldn't before.
But the biggest benefit to me is that I can now access Foothold's additional support for the remainder of my studies.
How the Engineering Neurodiverse Futures programme has changed my life
Back before the diagnosis, I knew I was struggling, but didn't understand why. I had a conflict raging inside of me and it was tricky. I always felt I was 'different' in some way. Now, I feel relief. I have more compassion for myself, and feel I know myself better than I did before.
Before I accessed Foothold's support I felt like I was running out of options, like everything was outside of my control. But my diagnosis has helped me to learn more about myself, and has enabled me to approach my studies and career in a better way.
It's impacted all aspects of my life, and helped me understand and embrace the behaviours I exhibit.
It's like the window has finally been flung wide open, allowing me to break free from the vicious cycle of continuous struggle and escape into a world of possibility.
I honestly don't know what I would have done without Foothold's support. All I do know is I would have flown under the radar, continuously stumbling from study method to study method and achieving less than I'm capable of.
Taking my self-learning forward
It's even lit up a fresh spark for learning in me too, and I'm now interested in discovering more about myself and others, and maybe even pursuing a career in bioengineering, as this feels more natural to me.
Now that I've experienced first-hand the benefits of accessing support and getting a diagnosis, I'm also thinking of volunteering for Foothold too, to give something back.
My advice to anyone else who knows they're struggling but can't figure out why, is to open your mind to all the possibilities, even that you may be neurodivergent.
Don't close the door on your feelings and instincts – after all, I didn't feel I met the criteria for a diagnosis, and I felt unable to accept that I might be neurodivergent myself.
If you think you may have ADHD or another neurodiverse condition, get curious about it. It really is a valuable learning experience, as well as having real benefits for your studies and work if you discover you're neurodivergent. And if you're anything like me, it's an opportunity you'll value greatly.
Think you might be neurodivergent? Taking a pre-assessment or online screening test is a good starting point to exploring whether you might have a neurodiverse condition. You can access a range of tests and tools on our free Differently Wired Hub.
Talking things through with others, like your friends and family or even our team here at Foothold, can be helpful too. Get in touch with us today.
You can learn more about our Engineering Neurodiverse Futures programme here.