In 2022, Victoria and a team of Foothold supporters raised over £3k for the engineering community by taking on our Snowdon at Night fundraising challenge. Read about their experience, and what it means to her, below.
As bleak as the challenge sounds, I'm so glad I did it. It felt enriching to be able to do something that I took joy from, whilst benefitting other people at the same time. It was a real win-win situation.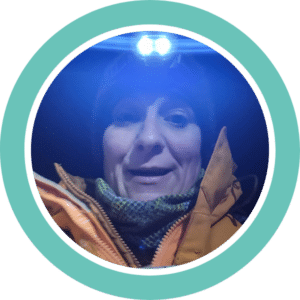 Hi, my name is Victoria and I live in Bedfordshire, England with my wife and son.
As Project Portfolio and Coordination Manager at the IET, I regularly receive communications about Foothold. I'm a keen walker and love exercising out in nature, so on reading about the Foothold 'Snowdon at night' hike I jumped at the chance to take part.
This challenge was something a bit different to anything I'd done before.
Hiking through the night by torchlight to reach the summit of Mount Snowdon by sunrise sounded too good to miss.
Joining #TeamFoothold
A team of three Foothold supporters signed up and we committed to raising £1,500 between us. We registered for the event, opened a team Just Giving page and set up a WhatsApp group.
Then the training began.
To prepare, we each tried to get out walking as much as we could and got ourselves into the gym. Foothold provided some training plans and guides put together by personal trainer and engineer Dan Cognolato, which came in handy.
The fundraising went well, and all three of us quickly and easily surpassed our target.
Giving something back
It was important to me to raise these vital funds as I have a personal connection to Foothold.
I'm not an engineer, but as an employee of the IET, Foothold have previously been able to support my wife and I through a difficult time with both individual and couples counselling.
They also funded an occupational therapist to work with my son and facilitated an ADHD assessment for him.
This support was such a big help and made a real difference to our lives. I was pleased to be able to give something back to the charity through my fundraising.
Our mountain adventure
On the day of the challenge, we each travelled to Llanberis, a town in the foothills of Mount Snowdon in Wales, and met with the Global Adventure Challenges team who were leading the event.
There were some other participants from different charities joining us, and our small group was lucky to benefit from the close support of our mountain leader experts. After getting kitted out with head torches and safety briefings, we set off up the mountain.
On the night of our hike there was no moon to be seen, so it was extremely dark and misty. It was actually quite an intense experience, and I felt more inhibited by the dark than I'd expected.
The further we climbed, the harder it got – then before long we were in the clouds. By this point, the light of the torches was just reflecting off the moisture in the air so we could barely see our hands in front of us.
At around the halfway point, some of the participants had to turn back and hike back down the mountain, leaving us short of a mountain leader to bring up the rear of the group.
Due to the differing levels of ability and fitness in the group, we became quite spread out as some began to trail behind.
My teammate and fellow Foothold supporter Simon chose to walk alongside the people at the back to ensure we all stayed safely together. This kind action really stood out to me, as it highlighted the importance of looking out for one another and captured the essence of what Foothold's community is all about.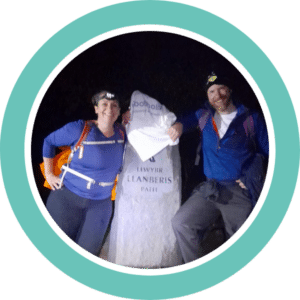 We all summited the mountain in gale-force wind and rain, hours before sunrise! I had totally misunderstood that bit. As the visibility was only meters, we hardly even saw the summit trig point.
It didn't matter though; the feeling of accomplishment overshadowed the miserable conditions. By the time I got back down to the bottom, my body felt broken. My back and hips were aching and my feet were in bits.
After our celebratory breakfast, I drove back to my friend's house and slept as long as my six-year-old would allow.
The impact of our fundraising
As bleak as the challenge sounds, I'm so glad I did it. It felt enriching to be able to do something that I took joy from, whilst benefitting other people at the same time. It was a real win-win situation.
We managed to raise over £3,300, which smashed through our original fundraising target.
In 2021-22, Foothold supported 565 people across 32 countries and delivered over 12,000 digital wellbeing sessions for the engineering community, so I know that the funds we raised will go towards helping people who really need it.
It was easy to draw comparison between the Snowdon challenge and the situations of many of the people that Foothold helps.
When life gives you an uphill slog and it feels like you're completely in the dark, you can rely on the Foothold community around you to shine a light and support you on your way up that hill.
If you want to literally follow in Victoria's footsteps and make a difference for the engineering community, why not put your endurance to the test in our new Snowdon challenge? You'll summit the mighty mountain during the day whilst witnessing unforgettable views of Snowdonia National Park. Register your interest here.