On this year's Autism Awareness Day, Charlotte Smeed and her husband Marc share their family's experiences of parenting children with autism, and how a bit of support can make a huge difference.
In many ways, our family was already in lockdown long before last March. While life has been hugely altered for so many in the past twelve months, ours has largely remained unchanged. We were already living an adapted, enclosed life. Part of a large number of parents who have found themselves operating on the fringes.
Trying to work out how to fit a round peg into a square society. We parent in the landscape of special needs.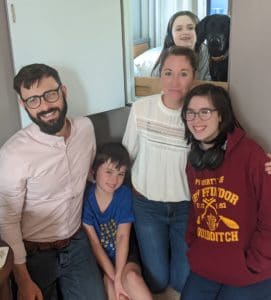 My husband and I were never the parents who waved their children off to Brownie camp. We never knew the stress of working out how to fit violin lessons in and still make it to football practice on time. You would not have found us with other parents in the playground. Our kids are the ones who kept odd hours at school (if they were able to make it at all).  Cafés, museums and cinema were hard places for us to frequent.
Different parenting
We have three truly wonderful children: Elodie, Molly and Noah. They are joy and light, and all that is good in our lives. Noah and Elodie love anime, Harry Potter, and gaming. Molly loves her dog Milo and digital drawing. They are very caring, loving, intelligent kids – we are so proud of them. But their needs call my husband and I to a different approach to parenting.
Elodie has autism and severe OCD. Molly has autism and complex health issues that mean that she is also a wheelchair user and spends long portions of her life in bed with chronic severe pain. Noah is on a pathway to Children's and Adolescent Mental Health for high anxiety and showing similar traits to his sisters. These extra challenges do not define them, but they do alter family life for us.
Understanding autism
We are only too happy to come and chat to you about our story! But also, about how Foothold have made a massive difference in Molly's life by supporting her in getting her beloved assistance dog, Milo.
Autism is a neuro-developmental disorder, and there is a huge spectrum of ways it can present. To summarise – autism is hallmarked by difficulties in social skills, repetitive behaviours, speech and non-verbal communication. There is also marked comorbidity with mental health in adults and children with autism.
It is important to remember that our understanding of autism needs to be seen through the lens of our own experience.
My take on autism will be different to other parents who have children on the spectrum. So, anytime I talk about autism, I add a caveat that we are no experts on the subject.
Both our girls were diagnosed with autism when they were referred to psychological support for different reasons. Marc and I found the process of diagnosis to be a positive one for both our girls. They both understand their own brains better with their diagnosis. Knowing they have autism helps the girls understand why they find certain things difficult and why their processing systems may differ from those around them. And honestly, it is also a helpful diagnosis for support from school and hospital. There is a sense of protection for them, and an identity that has come with diagnosis that they both own.
How autism affects our family
Autism affects our girls in many ways. And teasing this out can be a little tricky because they both have additional diagnoses that can overlap and make it harder to separate one thing from the other.
Both girls find interaction quite tricky and draining. They will both work hard to cope in social settings like school or interaction with peers or family. They may be quite distressed before or after social interaction but can mask this to appear confident and comfortable in dialogue with others. Masking is not necessarily a negative thing as it is a great coping mechanism in overwhelming situations. But it can be difficult to manage, as interactions can cause distress and they often need time to recharge afterwards. This means mental health can also be a concern due to the effort and stress of hiding anxiety.
Molly also struggles to communicate with doctors or other health professionals. She is often mute during these meetings as she finds them very overwhelming. Elodie, on the other hand, is someone who could monologue excessively, sometimes barely drawing breath for half an hour on her chosen subject.
Both girls struggle with loud noise. Molly tends to have noise cancelling headphones on even in the house. Elodie has moved to plastic crockery to reduce the noise of her knife and fork on the plate.
Both struggle with sensory perception that comes from clothes which limits what they can wear.
They need things done in certain patterns and orders.
Both struggle with being out the house in public, with the overwhelming negative sensory input that floods their brain and makes them feel anxious and distressed. School is a difficult place for them to be.
How Molly met Milo
We teach our kids to be very proud of who they are and embrace autism as part of the unique and beautiful part of how they are made. It is, however, a tension. They're locked in an inability to embrace different experiences and situations. Unable to manage daily functions that we take for granted. That's where we work with the kids to help them to gain strategies and support to navigate a world that can be unfamiliar and overwhelming to them.
It was this drive of reducing barriers for Molly that got us in touch with Foothold for support.
Molly has loved dogs for as long as I can remember. All dogs – large, small, thin, fat have been a source of joy to Molly. We ourselves had never owned a dog. We got in touch with an amazing company called Autism Dogs CIC and visited them at their training centre and farm to understand who they were and how they operated. They are a wonderfully nurturing and welcoming organisation who promote further understanding of autism and provide families with assistance dogs who will support a child or adult on the spectrum.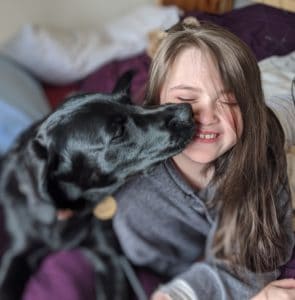 As you can imagine, it is a huge cost to train an assistance dog. Foothold incredibly kindly gave us a very large donation towards our fundraising. It enabled us to reach our target and support Molly. It took a while to be paired with Milo who stayed with us as he trained. He has been with us for a year and will be qualified within the next few months.
How a support dog can help children with autism
Milo already works so well with Molly and has changed her life beyond recognition. Molly spends long periods of time in bed, and he has brought companionship and a bond that is beautiful and strong. Molly is a wheelchair user and has restricted movement due to severe bladder spasms.
Milo retrieves her phone when she needs it, opens her lift door when they are heading out and provides deep pressure when she is feeling overwhelmed.
He supports her outside the house too. Over the past few months Molly has left the house on her own with Milo to take him up and down the street outside our house. For a child who has never left the house by herself, never wheeled to school or down to her Gran and Grandpa's by herself it has felt like a massive breakthrough in her independence. He will, at some point this year, begin to support Molly in school.
Navigating autism can be very tricky. It can feel hard to always know how to support your child best. Sometimes we do not always know if the decisions we are making will make their life better or not. However, occasionally, you go down a route that brings sunshine and light into a harder situation – you can see the tangible effects of going down the road.
This is exactly what it is like for us with Milo. We are incredibly grateful to Foothold who supported us in doing this for Molly and significantly changing her life for the better. If you would like to follow more about Milo and Molly's journey together, please feel free to have a look at the blog we have set up on Facebook: Milo and Moo.