Make every mile matter for the engineering community
By taking part in the Royal Parks Half Marathon, you'll help us provide vital support to engineers and their families. Every mile you conquer and every penny you raise means we can be there for even more people in our community – helping them overcome life's challenges so they can thrive, every day.
Stand with your fellow engineers. Register for the race today, and make a difference through your miles.
Why you should support Foothold
We offer varied and tailored support to help engineers and their families overcome some of life's most difficult challenges.
Our support is funded by our community. And it makes a real difference to engineers around the world. See how we made an impact in 2021-22.
Whatever your circumstances, we're here for you and your family. Hear from people like you who've benefited from our support.
Join #TeamFoothold and take on the most spectacular half marathon in central London!
Race through four of London's most scenic urban parks (Hyde Park, The Green Park, St James's Park and Kensington Gardens) and get up-close to some of the city's world-famous landmarks, whilst raising vital funds for engineers in need.
If you want to discuss the event with us in more detail before you register, please get in touch by sending an email to [email protected]. We're here to support your fundraising efforts in any way we can.
For over 130 years, we have helped engineers and their families to live well and thrive – financially, physically and emotionally. Your support will help ensure we continue to be there when they need us most.
STAY UP TO DATE WITH HOW YOUR SUPPORT IS MAKING A DIFFERENCE
Join our mailing list to get the latest updates and news about our impact in the engineering community. We'll also send you useful advice, information and resources to help you manage your financial, physical and emotional wellbeing.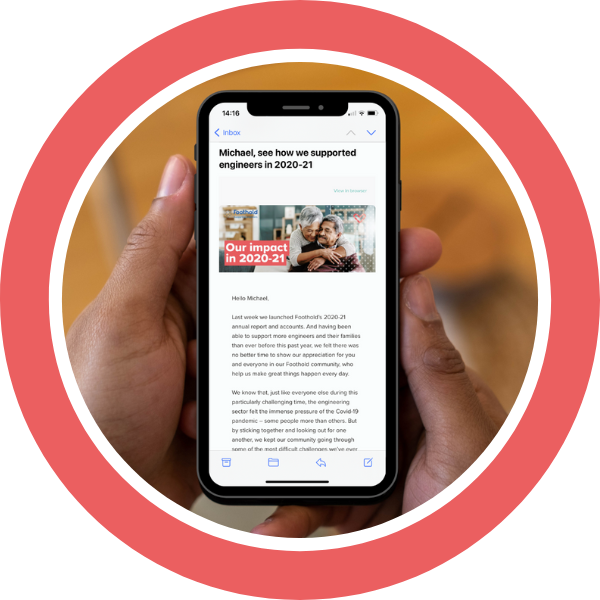 Take a look at our other events